📘 6 modules ⏰ 3+ hours of content 🛠 6+ templates 🧑‍💻 100% self-paced 🧠 Access to content for life 🔖 40+ exam questions
Course overview 👇

Whether you're an industry newbie or a developer relations specialist, you need to know how developers think – and what makes them tick. This is the first step in creating solid marketing strategies because getting into the developer's mindset allows you to understand what they're looking for in a product, their likes, and dislikes, where they hang out, and more.
This course will teach you how to conduct research to understand what developers and their stakeholders actually want – as well as their attitudes, experiences, and pain points.
You'll learn from key experts in the field, practical examples, case studies, and interactive coursework.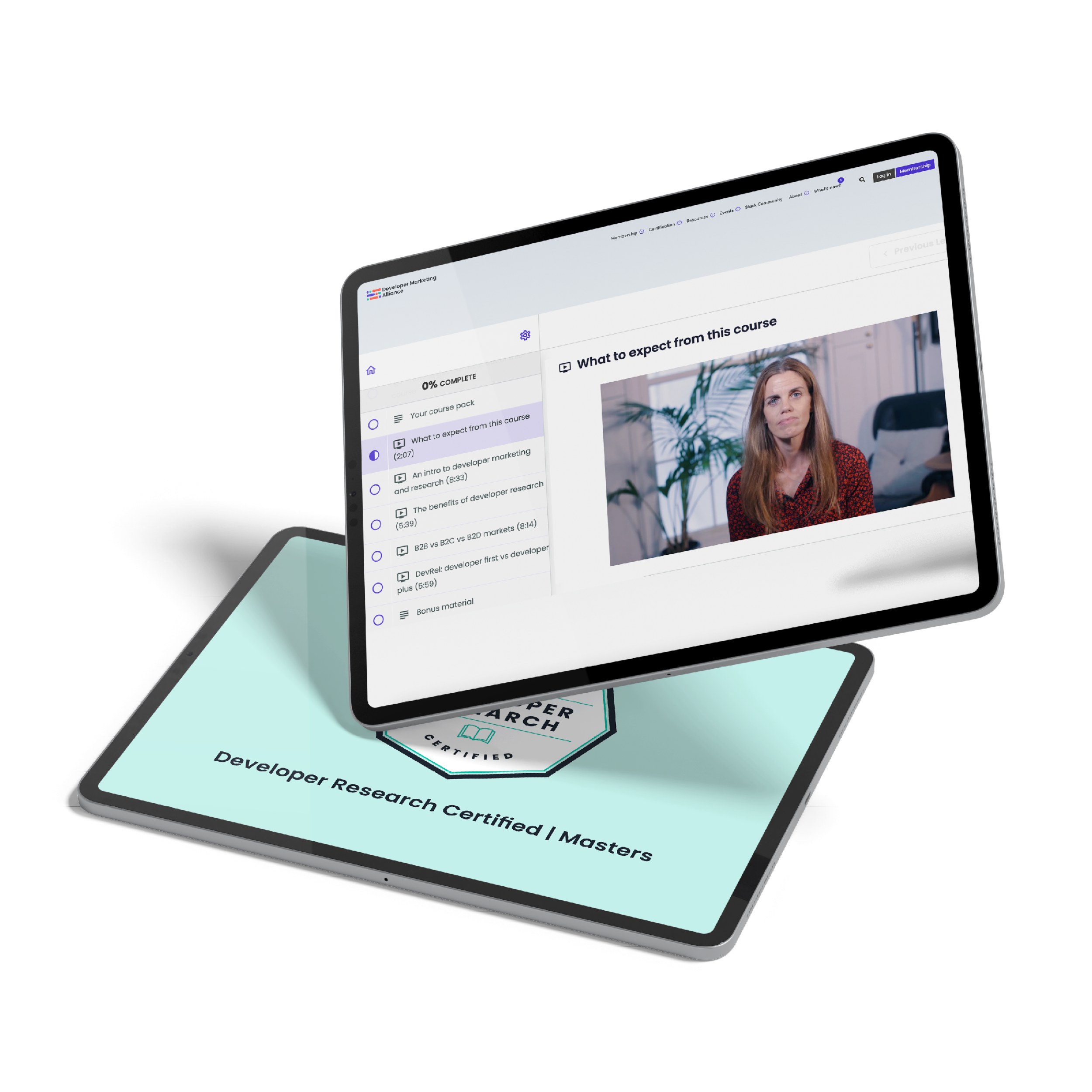 "This course provides a thorough framework for running developer research. It covers every aspect from the moment you thought of doing something to get to know your customers better, to implementing your findings company-wide. I would say it's a must-course for everyone who is in developer marketing and wants to do [research] right."

Joana Cizinauskaite, Product Marketing Manager at Oxylabs.io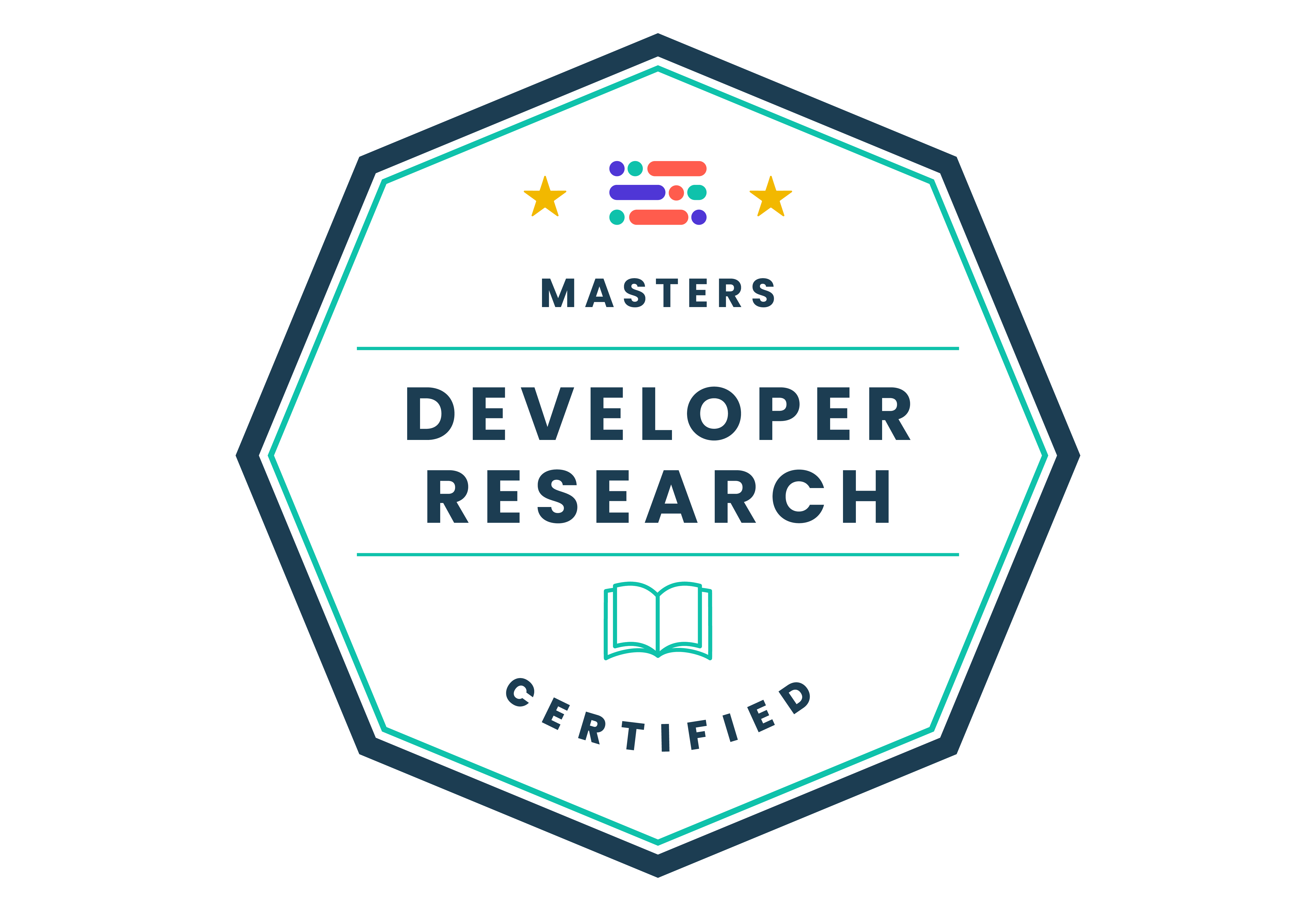 What's included when I enroll?

🎥 6 insightful modules that cover the breadth of developer research.
🧠 3 hours of content, including bonus material, crammed with expert insights.
✅ 40+ exam questions sprinkled throughout every module to test your uptake.
📜 Coveted certification to show off to your colleagues.

Power-up your developer marketing career

Gain access to our entire suite of courses, both existing and future, 100+ hours of OnDemand content, templates & frameworks, mentorship opportunities, 1x free in-person summit ticket, and so much more when you become a Pro+ Member.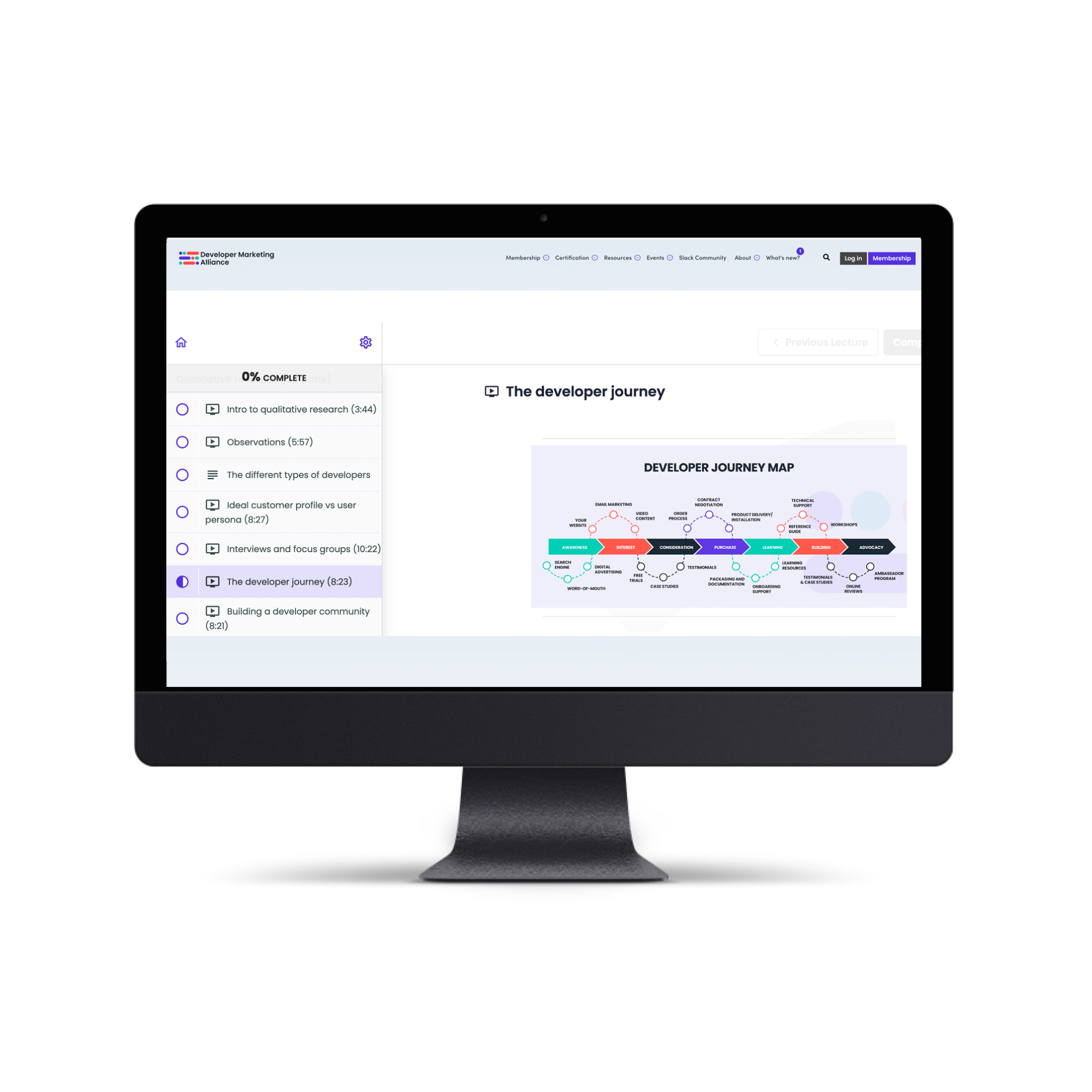 By the end of this course, you'll be able to confidently:

💪 Understand what developer research is and why it matters.
🧠 Gain a deeper knowledge of your audience.
🤝 Make the most of your developer community.
🧑‍💻 Master the art of engaging with developers (including pain points and advocacy).



"Developer Research is a niche area with little guidance for the marketer. This course helps demystify the topic with tangible guidance and feedback from pros in the field. It's a great course!"


Abhishek Ratna, AI/ML Product Marketing Lead at Google

FAQs.

Q: Who's this course for?
A: The Developer Research Certified | Masters course is perfect for developer marketers new to the industry, as well as those who want to polish their skills.
The curriculum is also ideal for everyone looking to think like a developer and learn how to best communicate with them, as you'll learn how to conduct research, to communicate that research to key stakeholders, and so much more.
Q: How does the course work?
A: Once you enroll, you can go through the modules in the way that suits you best (and your goals), and you'll also have the chance to perform activities. At the end of each module, you'll have exam questions and, if you pass them, you'll become Developer Research Masters certified.
Q: How long will the course take to complete?
A: It depends on what works best for you – the course is 100% OnDemand and fully self-paced, so take it at your own pace.
Q: What happens if I don't pass the exams?
A: If you fail the first time, you can retake the exam. If you fail the second attempt, sadly, you won't get the certificate. However, you'll still have the knowledge you acquired, as well as the course materials.
Q: How long will I have access to the course content?
A: For life! A single, one-off payment offers you unlimited to all the course's content.